Holiday Shipping Season is here.
To all our US customers
Please consider adding the shipping upgrade to your listing to recieve tracking.
Thank you for your patience and all your continued support.
You are the reason I love being an artist. Carrie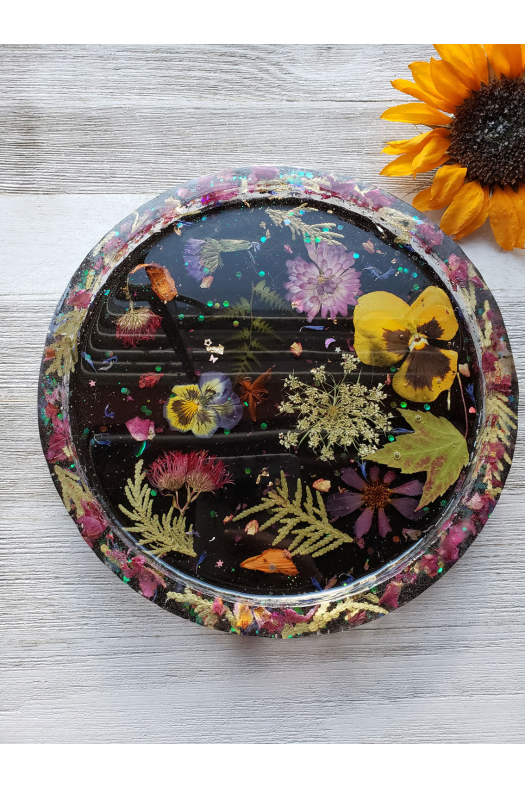 Mixed Botanical Tray Decor with Maple Leaf
This one of a kind circular resin dish with dried florals is truly a statement piece. It is 8 inches around in diameter.
The sides contain bits of dried Peony petals and Cedar
The middle of the dish preserves a lovely array of dried florals such as Queens Anne Lace, Purple Mum, pink Coreopsis, Pansy, Pink Aster, Star Anise, Orange Daylily, Purple Statice, Blue Cornflower petals, Cedar. and a Green Maple Leaf.
It also contains some various glitters and backed with a black colored resin.
This tray or trinket dish is a one of a kind piece of botanical art.
Trinket dishes are created with high quality resin.
Dish is backed with Black resin.
The dish on the outside is not smooth. It has a wood like texture as the original template was created from wood. It adds to the unique character to each piece.
The last image shows what the outer texture could look like.
** Please note that my resin has uv stabilizers in it that will prevent it from turning yellow over time however it is possible the plants could fade. It is best to keep out of direct sunlight and away from extreme heat to keep your piece lasting as long as possible. **