This website is currently on vacation while participating in an Artisan Event.
Website will re-open on Friday September 22nd.
Please feel free to contact me with any inquiries.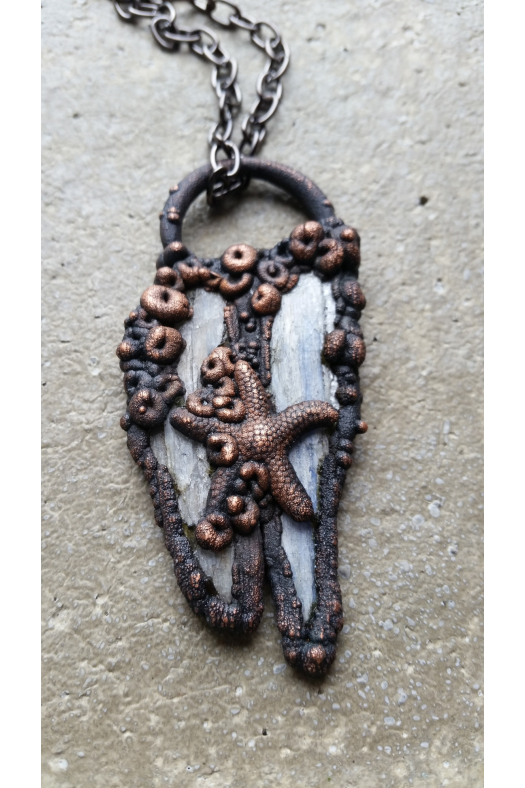 Large Blue Kyanite Hand Sculpted Electroformed Copper Starfish Pendant Long Boho Necklace
Sea Siren Collection
Hand formed barnacles accent a hand formed this one of a kind underthesea inspired necklace. This long statement necklace is for the mermaid in all of us. This piece of wearable art was created with some raw blue kyanite stones. The starfish truly shines being paired with this calming stone.
Design was electroformed in copper for over 24 hrs. A dark patina was added then distressed to bring out more details. The piece was sealed with a matte finish on the front and resin on the back to protect the patina as long as possible from wear. The back will have a little of a gloss finish because of that.
Piece hangs on a 28 inch gunmetal chain. Necklace is about 32 inches in total. If you would like leather instead of chain contact me directly.
Blue Kyanite- Spirituality, Balances chakras, Tranquility, Loyalty, Honesty, Blue Kyanite strengthens the voice and heals the throat
Interestingly starfish have no regenerative abilities. If a limb is cut off it will grow back as long as its heart is intact. The Starfish is strong and represents guidance, intuition, inspiration, brilliance and vigilance. In Christian symbolism the starfish represents the Virgin Mary (Stella Maris which means Star of the Sea) who lovingly creates safe travel over troubled waters and is also seen as an emblem of salvation during trying times
** PLEASE NOTE ** that any information pertaining to metaphysical properties of gemstones that are mentioned are in no way any kind of medical diagnosis. Always consult a medical doctor should a situation arise.**