This website is currently on vacation while participating in an Artisan Event.
Website will re-open on Friday September 22nd.
Please feel free to contact me with any inquiries.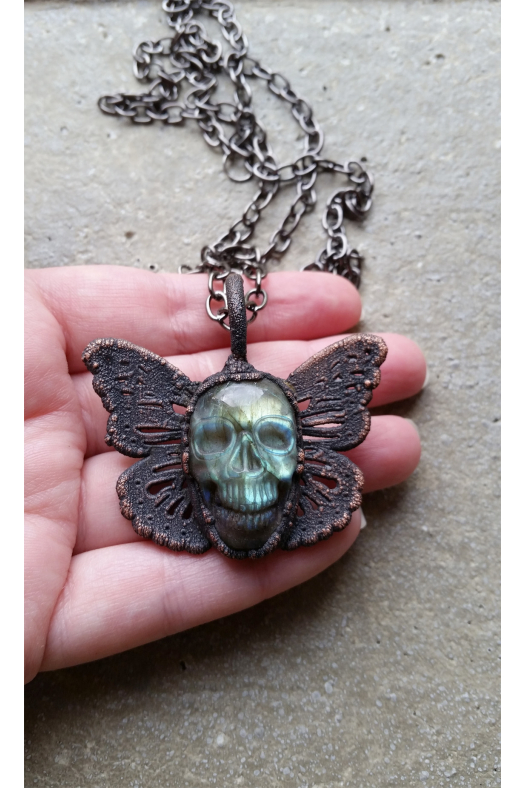 Labradorite Skull Butterfly Pendant Electroformed Copper Long Necklace Boho Jewelry
Combining my love of butterflies and the coolness of this Labradorite skull this statement piece was born. They make the perfect combination in this design. The stunning blue flash radiates when the light hits it from just the right angle.
The butterfly pendant was electroformed in copper for over 25 hrs. Such a unique finish that looks different everytime I use this technique together. The copper Butterfly was sealed with a matte finish on the front and a thin layer of resin on the back. The back will look shiny in person.
Necklace chain is is 28 inches in length making the total piece about 30 inches.
Each piece is unique.
( Please note that titanium coated quartz is not the same as an aura )
.
Did you know that butterflies are a representation of life. many cultures do associate the butterfly with the soul. People are said to view this beautiful insect as representing endurance, change and hope.
Labradorite is said to symbolize Strength, Personal growth, Life changes, Calming, Protection, Raises consciousness and connects with universal energies. Stone of esoteric knowledge.
** PLEASE NOTE ** that any information pertaining to metaphysical properties of gemstones that are mentioned are in no way any kind of medical diagnosis. Always consult a medical doctor should a situation arise.**